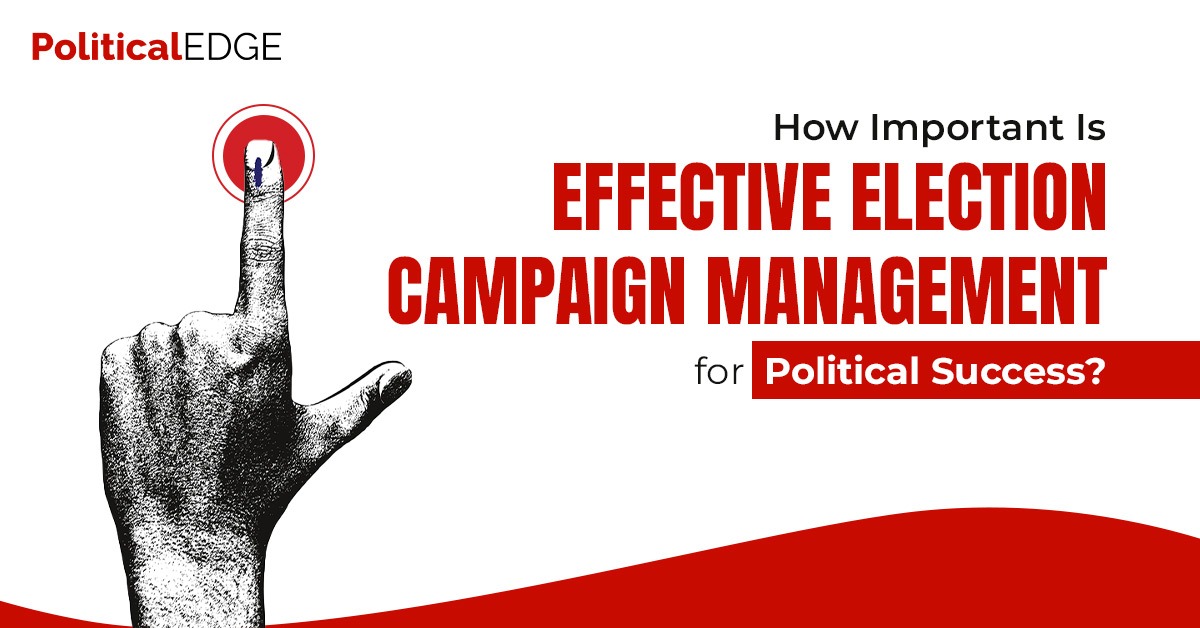 Every motive, idea or purpose is void without fair strategical promotion and awareness. Similarly, for the success of every political election, an effective election campaign plays a pivotal role. To secure victory, candidates must engage in well-planned and efficiently executed election campaigns. However, simply participating in an election is not enough. To maximize their chances of success, candidates must prioritize effective campaign management. In this blog post, we will delve into the significance of proficient election campaign management and explore how it can make a critical difference in achieving political success.
What are Political Campaigns?
The democratic and electoral processes depend heavily on political campaigning. Politicians and voters frequently interact during political campaigns. The primary objective of the political party is to win elections and take government; in order to do this, they require the support of the public, their audience, their voters which they acquire through an effective campaign.
The degree to which campaigns are informative, who finances them, and how they are covered by the media are all important elements in how campaigns support democratic governance. First, there is no denying that campaigns educate voters about politics and the broader world. The most crucial and costly aspect of contemporary campaigning is advertising, which also serves as the primary means by which politicians interact with their constituents. Candidates must spread the word about themselves and inform us early on of their positions and priorities. Through persistent advertising, this is accomplished.
Why are Political Campaigns Important?
Establishing a Strong Image
One of the key aspects of effective campaign management is the ability to establish a strong and compelling image of the candidate. This includes crafting a clear message that resonates with the electorate, showcasing the candidate's qualities, and emphasizing their policy proposals. A well-managed campaign creates a positive perception of the candidate among voters, enhancing their credibility and increasing their chances of success.
Targeting the Right Audience
Successful campaigns require a deep understanding of the electorate and the ability to target the right audience effectively. Through meticulous research and data analysis, campaign managers can identify the demographics, preferences, and concerns of various voter groups. By tailoring their message and campaign activities to appeal to specific segments of the population, candidates can connect with voters on a personal level. This targeted approach maximizes the impact of the campaign and helps garner support from key constituencies.
Strategic Resource Allocation
Efficient campaign management entails strategic resource allocation, including financial resources, human capital, and time. Funds must be allocated judiciously to areas such as advertising, public relations, grassroots organizing, and digital outreach. Furthermore, assembling a capable team of campaign strategists, communication experts, and volunteers is essential for implementing a well-coordinated and comprehensive campaign plan. Effective time management ensures that activities are prioritized and executed in a timely manner, avoiding last-minute rushes that could result in suboptimal outcomes. By making the most of available resources and employing a strategic approach, campaign managers can amplify the impact of the campaign and improve the overall chances of electoral success.
Building a Strong Ground Game
A robust ground game is a crucial element of campaign management. It involves establishing a strong grassroots presence, mobilizing supporters, and engaging directly with voters. Door-to-door canvassing, community events, and town hall meetings provide candidates with opportunities to connect with constituents, listen to their concerns, and address their issues. A well-executed ground game helps build trust, create meaningful relationships with voters, and cultivate a loyal base of supporters. Additionally, an effective ground game can yield valuable insights and feedback, allowing campaigns to refine their messaging and strategy as the election progresses.
Adapting to a Dynamic Environment
Successful campaign management requires the ability to adapt to the ever-changing political landscape. It is essential to stay attuned to current events, public sentiment, and emerging trends. Campaign managers must be agile and responsive, adjusting the campaign strategy and messaging accordingly. Moreover, employing modern communication techniques, such as social media and digital advertising, enables campaigns to reach a wider audience and connect with voters in real time. By leveraging technological advancements and staying flexible, campaigns can maintain relevance, capitalize on opportunities, and effectively counter challenges.
Conclusion
In the realm of politics, effective campaign management is a vital component of achieving electoral success. A well-managed campaign establishes a strong and compelling image of the candidate, effectively targets the right audience, strategically allocates resources, builds a robust ground game, and adapts to a dynamic environment. By embracing these principles, candidates can maximize their chances of connecting with voters, gaining their support, and securing victory on election day. Ultimately, successful campaign management serves as the linchpin for political success, enabling candidates and political parties to effectively convey their political message and build trust amongst the audience and voters to foster growth and ensure the success of their political party.
About the Author
PoliticalEDGE, India's leading political consulting firm, empowers people-centred political campaigns through our personalised and statistical data-driven consultancy. With 16 years of experience and a track record of servicing for 1100+ political leaders to win referendums, we offer full-service campaign consulting across India. Our three pillars—Targeted Communication, Systematic Activation, and Planned Movement of Leaders— are the key to driving success. From Municipal Corporations to State Chief Minister aspirants, we cater to diverse clients with individually customised services and support. Today, we facilitate a deep connection with each voter. So, shape your political future today with PoliticalEDGE's integrated services.