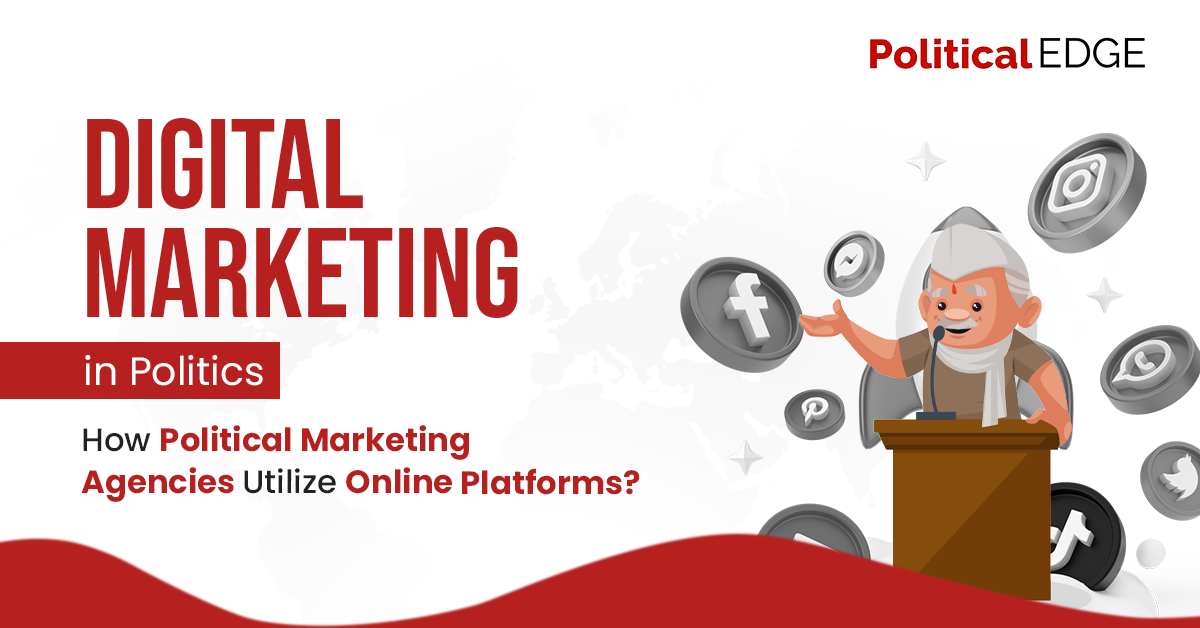 In the ever-evolving landscape of politics, where public perception holds immense power, political marketing agencies have turned to the digital realm to amplify their strategies. The digital era has ushered in a new paradigm of political engagement, one where online platforms are harnessed with precision to influence and mobilize constituents. This blog delves into the intricate ways political marketing agencies utilize online platforms to navigate the complex world of modern politics.
Let's dive deep into the marketing techniques used in politics and how it works in the digital workspace.
How Do Political Marketing Agencies Utilize Online Platforms?
Political marketing agencies harness online platforms by employing a multifaceted approach that leverages data-driven insights, targeted messaging, and real-time engagement. They utilize social media to connect with voters, share candidate profiles, and craft engaging content, while also collaborating with influencers to extend their reach. These agencies tap into the power of geo targeting and localized campaigns to address region-specific concerns and build personalized connections.
Here are a following methods that such marketing agencies follow for Political parties:
Precision Targeting and Audience Segmentation
In the digital age, one size doesn't fit all, and political marketing agencies understand this better than ever. Online platforms provide a treasure trove of data that allows these agencies to finely segment their audience based on demographics, interests, behaviors, and even political affiliations. This precision targeting enables them to tailor their messaging to resonate with specific voter groups, maximizing the impact of their campaigns.
Data-Driven Insights
The power of data in political marketing cannot be overstated. By harnessing the analytics offered by various online platforms, political marketing agencies gain valuable insights into voter sentiment, preferences, and trends. These insights are then used to refine campaign strategies, optimize ad placements, and craft messages that resonate effectively with the electorate.
Social Media Engagement
Social media has emerged as a juggernaut in political marketing. Platforms like Facebook, Twitter, Instagram, and TikTok offer unparalleled reach and engagement potential. Political marketing agencies create and curate content that speaks directly to their target audience, fostering a sense of connection and involvement. They use these platforms to share candidate profiles, live campaign updates, behind-the-scenes glimpses, and user-generated content to establish a genuine rapport with voters.
Influencer Collaborations
Collaborating with social media influencers has become a powerful tool in the political marketing arsenal. By partnering with influencers whose audience aligns with a candidate's target demographics, agencies can tap into established communities and enhance their candidate's credibility. These influencers can authentically promote a candidate's policies and vision, creating a ripple effect that extends beyond traditional campaign tactics.
Content Diversification
Gone are the days of relying solely on traditional advertising methods. Political marketing agencies understand the need for diverse content formats to capture the attention of a digitally savvy audience. They leverage online platforms to create engaging videos, podcasts, infographics, and interactive content that simplify complex policies and stimulate meaningful discussions.
Real-Time Engagement and Crisis Management
The real-time nature of online platforms allows political marketing agencies to swiftly respond to developments, both positive and negative. This agility is crucial for crisis management, as agencies can address controversies, dispel misinformation, and manage public perceptions in a timely manner. Additionally, real-time engagement through live streams, Q&A sessions, and interactive polls humanizes candidates and fosters a sense of transparency.
Geotargeting and Localized Campaigns
For politicians running in multi-region elections, geotargeting is a game-changer. Political marketing agencies utilize platforms to create hyper-localized campaigns, addressing region-specific concerns and showcasing a candidate's commitment to local communities. This approach resonates deeply with voters, as it demonstrates a personalized understanding of their unique challenges.
Online Advertising
Online advertising has evolved into a sophisticated tool for political marketing agencies. They strategically place ads across search engines, social media, and relevant websites to maximize visibility. Utilizing techniques like pay-per-click (PPC) and display ads, agencies ensure their candidate's message reaches a wide yet precisely targeted audience.
Building Online Communities
Political marketing agencies recognize the importance of fostering online communities that rally around a candidate's vision. They create and manage dedicated social media groups, forums, and discussion platforms where supporters can interact, share ideas, and organize grassroots efforts. These communities serve as hubs for information dissemination and grassroots mobilization.
Leveraging Data for Decision-Making
Every interaction on online platforms generates data, and political marketing agencies capitalize on this resource. They analyze user engagement, sentiment, and conversion rates to fine-tune their strategies. A/B testing of different campaign messages, images, and ad formats allows agencies to optimize their approach for maximum impact.
Conclusion
In the digital age, political marketing agencies are mastering the art of leveraging online platforms to navigate the intricate landscape of politics. Through precision targeting, data-driven insights, social media engagement, influencer collaborations, diversified content creation, real-time engagement, geotargeting, online advertising, community building, and data-driven decision-making, these agencies are reshaping political campaigns and engaging voters in ways previously unimaginable. As the digital realm continues to evolve, so too will the strategies employed by political marketing agencies, ensuring that they remain at the forefront of effective political communication.