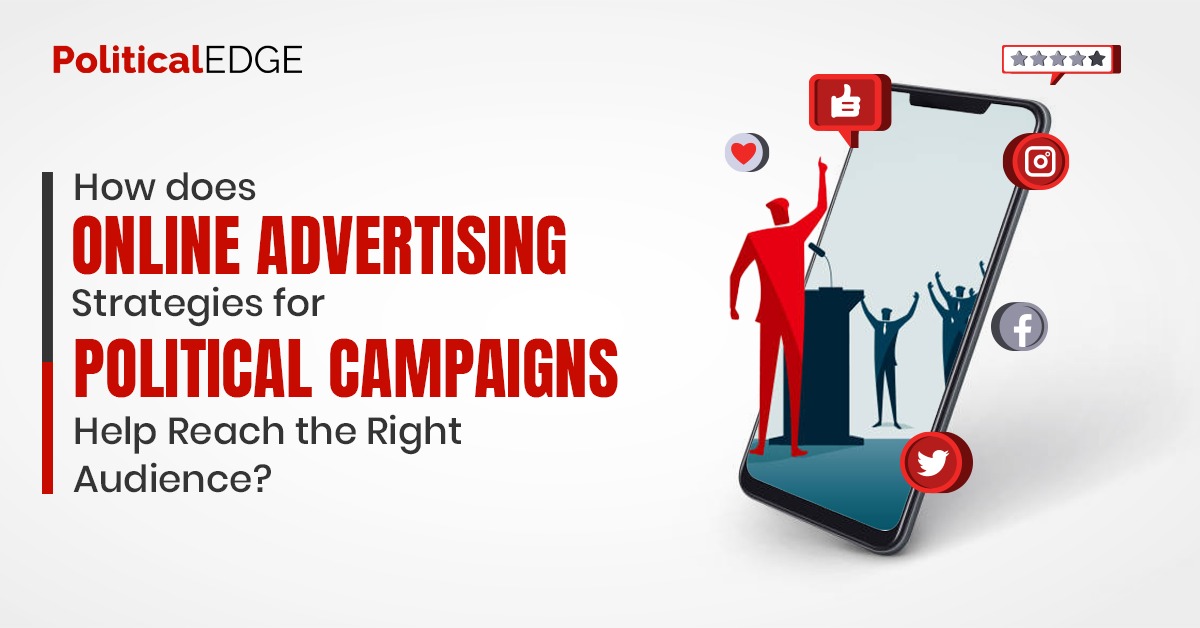 These days, online advertising has become an indispensable tool for political campaigns aiming to connect with voters and convey their messages effectively. With the ability to reach vast and diverse audiences, political candidates can leverage various online platforms and strategies to engage voters, build support, and ultimately secure victory. In this blog, we will delve into effective online advertising strategies that political campaigns can employ to reach the right audience and maximize their impact.
What are the different Online Advertising Strategies for Political Campaigns and how do they help?
Data-Driven Audience Segmentation
One of the key advantages of online advertising is the ability to segment audiences based on various demographics, interests, behaviors, and even geographical locations. By utilizing advanced data analytics and audience profiling tools, political campaigns can create highly specific audience segments. For example, a candidate running for a local office can tailor their message to resonate with specific neighborhoods or constituencies within their district. This hyper-targeted approach ensures that campaign resources are allocated efficiently, reaching individuals who are most likely to be receptive to the candidate's message.
Social Media Advertising
Social media platforms have revolutionized political campaigning by offering unparalleled access to potential voters. Platforms like Facebook, Instagram, Twitter, and LinkedIn provide sophisticated ad targeting options, allowing campaigns to narrow down their audience based on factors such as age, gender, interests, and even political affiliations. Campaigns can also take advantage of "lookalike audiences," which are created based on the characteristics of existing supporters, thereby expanding their reach to individuals who share similar traits.
Search Engine Advertising
Search engines like Google offer a unique opportunity for political campaigns to appear prominently when voters search for relevant keywords or topics. Pay-per-click (PPC) advertising allows campaigns to bid on specific keywords related to their platform or issues. When a voter searches for those keywords, the campaign's ads appear at the top of the search results, increasing visibility and potential engagement. This strategy ensures that the campaign reaches individuals actively seeking information about the candidate or their policies.
Content Marketing and Native Advertising
Content marketing involves creating informative and engaging content, such as articles, videos, or infographics, that aligns with the candidate's platform. By publishing such content on news websites, blogs, or social media, campaigns can establish themselves as thought leaders and build credibility. Native advertising takes this a step further by seamlessly integrating campaign content into the platform's user experience, making it less intrusive and more likely to resonate with the audience.
Video Advertising
Video has become a dominant form of online content consumption, and political campaigns can capitalize on this trend by creating compelling video ads. Platforms like YouTube and social media channels offer opportunities to target audiences based on demographics and interests. Campaign videos can feature the candidate's personal story, policy positions, and testimonials from supporters, all of which help connect on a deeper level with the audience.
Influencer Partnerships
Collaborating with influencers who align with the campaign's values and message can greatly enhance reach and credibility. Influencers have established audiences who trust their opinions and recommendations. By partnering with relevant influencers, political campaigns can tap into their follower base and amplify their message to a broader audience, especially among younger demographics who are more likely to engage with influencer content.
Retargeting and Remarketing
Retargeting involves showing ads to individuals who have previously interacted with the campaign's website, social media profiles, or other online content. This strategy serves as a reminder to potential supporters and keeps the campaign at the forefront of their minds. Remarketing takes this a step further by tailoring ads based on the specific actions users took on the campaign's platforms. For example, if a user visited the campaign's healthcare policy page, they may be shown ads related to healthcare reform.
Conclusion
Online advertising has transformed the landscape of political campaigning, offering powerful tools to engage and persuade voters in ways that were previously unimaginable. By employing data-driven audience segmentation, leveraging social media, utilizing search engine advertising, crafting compelling content, harnessing the power of video, partnering with influencers, and employing retargeting strategies, political campaigns can effectively reach the right audience and leave a lasting impact. As technology continues to evolve, these strategies will remain at the forefront of successful political advertising, shaping the way candidates connect with voters and shape public opinion.