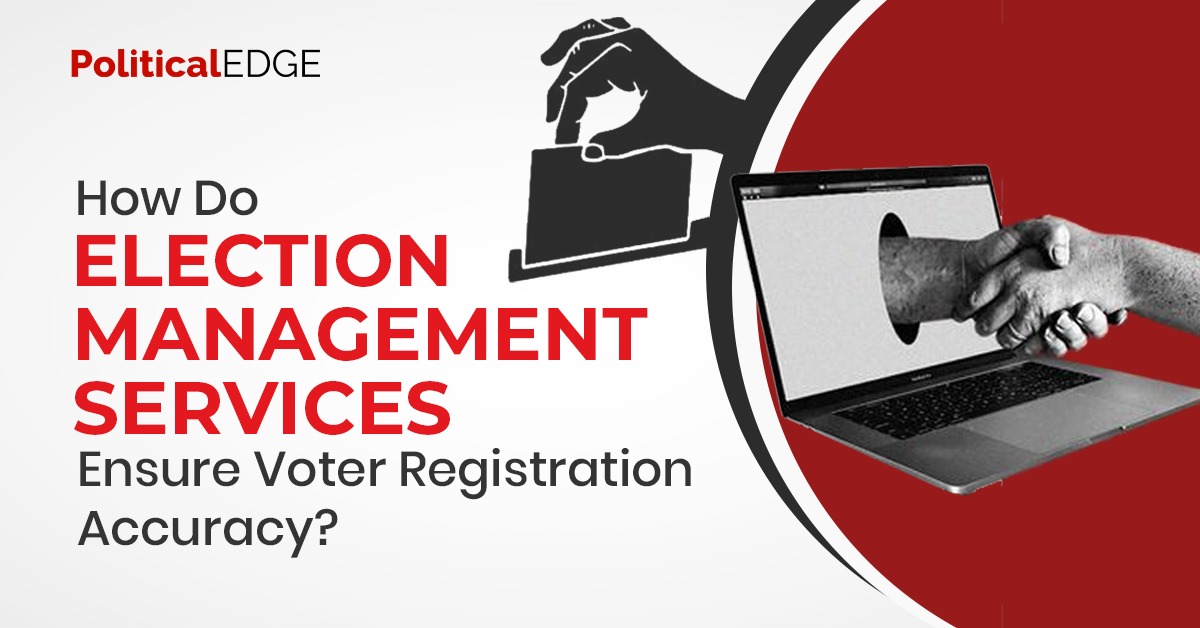 One of the best methods for states to safeguard the integrity of their elections and boost voter trust in the electoral process is to maintain accurate voter registration data. It falls under the responsibility of the election authorities to make sure that only qualified and eligible voters register to vote. They should also ensure that all the voter-related registration information is accurately entered into electronic systems and is accurate going forward. 
Voter registration is a cornerstone of any democratic process. It ensures that eligible citizens have the opportunity to exercise their right to vote and participate in shaping their government. However, maintaining accurate and up-to-date voter registration records is a complex task that requires meticulous attention to detail and advanced technology. In this blog, we will explore how Election Management Services (EMS) play a crucial role in ensuring the accuracy of voter registration.
What is Voter Registration?
Voter registration is the process by which eligible individuals officially become voters. It involves collecting and maintaining information about potential voters, such as their name, address, date of birth, and citizenship status. Accurate voter registration is vital for a fair and transparent election process. Without it, individuals might be denied their right to vote or have their votes miscast. 
The Challenges of Voter Registration
Inaccurate Information
One of the primary challenges in voter registration is dealing with inaccurate or outdated information. People move, change their names, or pass away, and it's essential to keep registration records current to avoid issues on election day. 
Duplicate Registrations
Voters frequently have several registrations due to inadequate communication among election officials; this is entirely outside of the voter's control. Dual registrations can disqualify voters from casting ballots or possibly bring about an investigation and erroneous accusations of vote fraud. Additionally, the existence of voter registration for someone who is ineligible to vote—whether that person has moved, passed away, does not exist, or is ineligible—presents a chance for identity theft and the casting of a fraudulent or error vote with almost no chance of detection under current law. 
Incomplete Records
Incomplete voter registration records can result in voters being unable to cast their ballots. Missing information, such as an incomplete address or incorrect date of birth, can lead to confusion and disenfranchisement. 
Security Concerns
Ensuring the security of voter registration data is paramount. Unauthorized access, data breaches, or tampering with voter registration information can compromise the integrity of elections. 
What is The Role of Election Management Services (EMS)?
Election Management Services (EMS) are entities responsible for overseeing various aspects of the election process, including voter registration. They act as guardians of the democratic process, striving to ensure its fairness and accuracy. EMS plays a pivotal role in addressing the challenges associated with voter registration: 
Database Management
EMS maintains a comprehensive voter registration database. This database is regularly updated with information from various sources, such as government agencies, the Department of Motor Vehicles (DMV), and the Social Security Administration. These updates help keep voter information accurate and up-to-date. 
Data Verification
To eradicate inaccurate information, duplicity, or incomplete voter registration, EMS employs sophisticated data verification techniques to confirm the accuracy of voter information. This includes cross-referencing voter data with other government databases and conducting address verification processes to ensure that voters are registered in their correct precincts. 
Removal of Duplicates
Identifying and eliminating duplicate registrations is a top priority for EMS. They use advanced algorithms to detect duplicate records and merge them, ensuring that individuals cannot vote more than once in the same election. 
Outreach and Education
EMS is responsible for educating citizens about the voter registration process. This includes initiatives to inform citizens about registration deadlines, requirements, and how to update their information. 
Security Protocols
EMS implements robust security protocols to safeguard voter registration data. This includes encryption, access controls, and regular security audits to detect and address vulnerabilities. This is done to protect the integrity of the electoral process by ensuring the maintenance of an accurate and current voter registration roll for elections 
Accessibility
EMS also strives to make voter registration accessible to all eligible citizens, including those with disabilities. This may involve providing alternative registration methods, such as online registration and accessible registration forms. 
Monitoring and Auditing
EMS monitors the voter registration process and conducts audits to identify and rectify any irregularities or discrepancies. This proactive approach helps maintain the integrity of the voter registration system.
Conclusion
Accurate voter registration is fundamental to a healthy democracy. Election Management Services (EMS) are at the forefront of ensuring the integrity of the voter registration process. Through technology, data management, and a commitment to transparency, EMS helps overcome the challenges of inaccurate voter information, duplicate registrations, incomplete records, and security concerns. 
As we move forward in the digital age, EMS will continue to evolve, adopting more advanced technologies and strategies to safeguard the accuracy of voter registration. The goal is clear: to allow every eligible citizen to exercise their right to vote, ensuring that democracy remains vibrant and accessible to all.