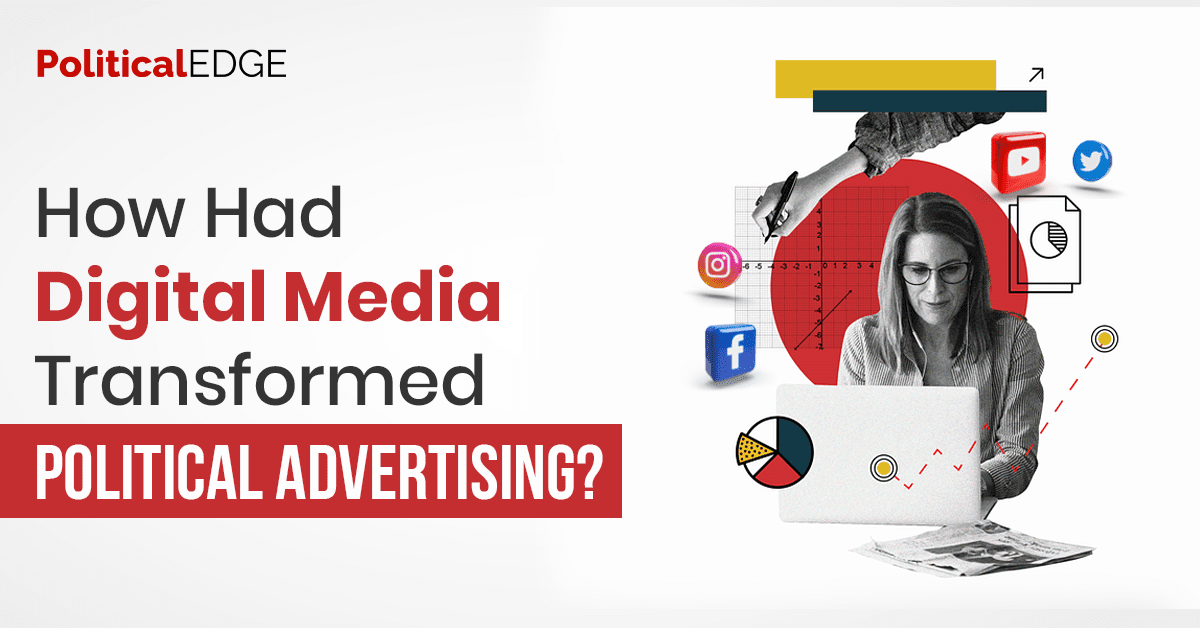 The new media landscape is dynamic and keeps changing in fresh, perhaps unexpected ways that have important repercussions for democratic government and politics. The way political leaders communicate, how elections are contested, how government institutions function, and how citizens engage have all been profoundly impacted by social media.
Traditional political advertising, once confined to billboards, flyers, and TV commercials, has undergone a profound metamorphosis. The advent of digital media has redefined the political landscape, revolutionizing the very essence of how political campaigns are conducted. This transformation has not only altered the strategies and techniques used by politicians but has also fundamentally changed the way the electorate engages with the political process. In this article, we will delve into the profound ways in which digital media has transformed political advertising, reshaping the dynamics of democracy and citizen engagement.
How has the Use of Digital Media Transformed Political Advertising?
Political candidates now expect to use social media. In contrast to traditional political advertising approaches, which are one-way communications, its planned and dynamic aspects offer an intimate forum to communicate directly with potential voters on their terms, in their platform of choice. Because social media platforms provide instantaneous feedback on campaign advertisements, astute candidates can promptly modify their messaging and approach in case their campaigns generate a poor reaction or low level of participation.
But how does it help?
Targeted Advertising
One of the most significant impacts of digital media on political advertising is the ability to target specific demographics. Through the use of social media platforms and search engines, political campaigns can precisely target individuals based on their age, location, interests, and online behavior. This level of precision was previously unattainable through traditional advertising methods. By targeting specific groups, politicians can tailor their messages to resonate with the concerns and aspirations of different segments of the electorate, thus increasing the effectiveness of their campaigns.
Real-Time Engagement
Digital media enables politicians to engage with the electorate in real-time, fostering direct communication and feedback. Platforms such as Twitter, Facebook, and Instagram have become vital tools for politicians to share their viewpoints on current issues, respond to constituents' concerns, and gauge public sentiment. This direct and immediate interaction has not only humanized political figures but has also made the political process more accessible and transparent, fostering a sense of inclusivity and participation among the electorate.
Viral Marketing and Memes
The rise of digital media has also popularized the use of viral marketing and internet memes in political advertising. Memes, with their humorous and relatable content, have become powerful tools for politicians to connect with younger demographics. By utilizing memes, political campaigns can create a more approachable and relatable image, thus breaking down the barriers between politicians and the younger generation. However, this approach also comes with challenges, as the line between engaging content and trivializing important political issues can sometimes be blurred.
Data Analytics and Insights
The availability of vast amounts of data through digital platforms has allowed political campaigns to employ sophisticated data analytics tools to understand voter behavior and preferences better. By analyzing data such as online search patterns, social media interactions, and website visits, campaigns can tailor their messaging and strategies to appeal to specific voter segments. This data-driven approach has revolutionized the way political campaigns are structured, enabling politicians to make more informed decisions based on actionable insights.
Dissemination of Misinformation
Not only did digital media expand the reach and impact of political advertising, it has also amplified the dissemination of misinformation and fake news. The rapid spread of false information through social media platforms has the potential to sway public opinion and influence electoral outcomes. Consequently, combating the spread of misinformation has become a critical challenge for both tech companies and policymakers, necessitating the implementation of robust fact-checking mechanisms and digital literacy campaigns.
Global Reach and Influence
International audiences can now closely follow and engage with political developments in foreign countries, leading to increased global interconnectedness and the formation of transnational communities centered around shared political ideologies and causes. This interconnectedness has elevated the importance of international relations in political discourse, influencing the global perception of political leaders and their policies.
Personalization and Customization
The use of digital media in political advertising has facilitated the customization of political advertising content based on individual preferences and behaviors. Personalized email campaigns, tailored website content, and custom-tailored advertisements have enabled political campaigns to establish deeper connections with voters by addressing their specific concerns and interests. This personalized approach has enhanced the effectiveness of political messaging, fostering a sense of individualized engagement and relevance among the electorate.
Conclusion
As digital technologies continue to evolve, it is crucial for policymakers, tech companies, and the public to collaborate in establishing ethical and regulatory frameworks that uphold the integrity of democratic processes while harnessing the transformative power of digital media for the greater good. The future of political advertising will undoubtedly be shaped by the continued evolution of digital media, highlighting the need for a comprehensive understanding of its implications for the integrity of democratic institutions and processes.