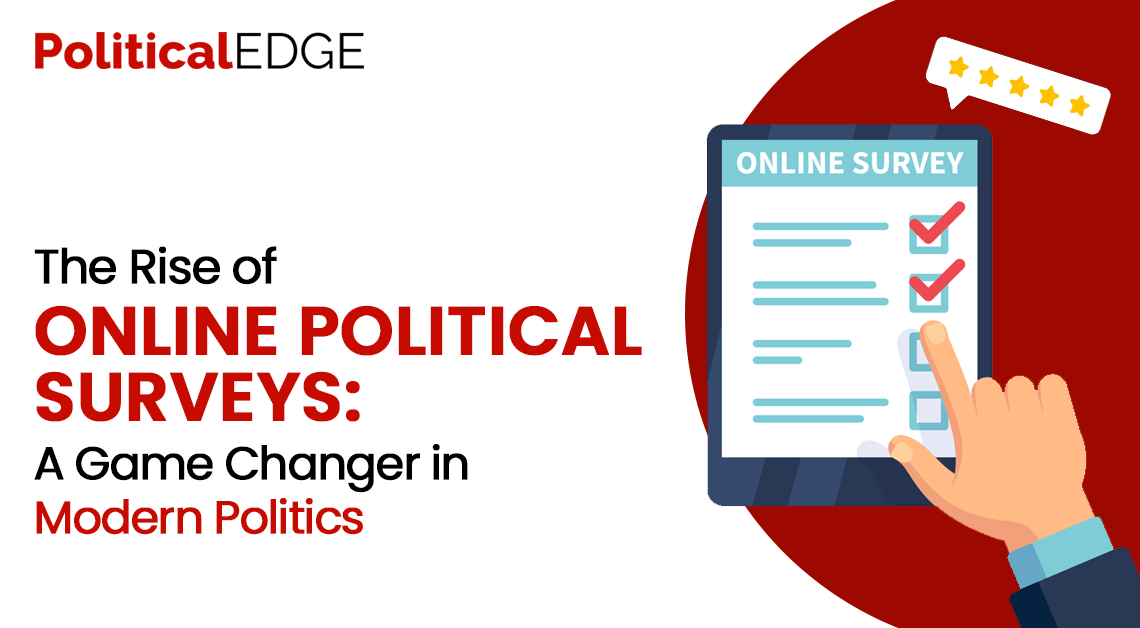 In the ever-evolving landscape of modern politics, the utilization of online political surveys has emerged as a transformative force, altering the dynamics of political campaigning, policy formulation, and voter engagement. With the widespread accessibility of the internet and the proliferation of digital platforms, political actors have swiftly embraced this technological advancement, recognizing its potential to revolutionize traditional approaches to understanding public sentiment and shaping political strategies.
This shift toward online political surveys marks a pivotal moment in the history of modern politics, facilitating unprecedented avenues for direct voter interaction, data-driven decision-making, and the cultivation of inclusive and responsive political environments.
What are Political Surveys?
A political poll captures respondents' sentiment, preferences, attitude, and personal data. Following that, the data is utilized to start political campaigns in an effort to win over as many people as possible.
Political surveys are systematic data collection methods used to gather information about public opinions, attitudes, and behaviors related to political issues, candidates, parties, and policies. These surveys are designed to provide insights into the preferences, priorities, and concerns of the electorate, allowing political actors to gauge the public sentiment and tailor their strategies accordingly.
What are the Primary Objectives of Political Surveys?
The primary objectives of political surveys include:
Understanding voter preferences
Political surveys help political parties, candidates, and policymakers understand the preferences and priorities of the electorate, enabling them to craft targeted messages and policy platforms that resonate with the concerns of the public.
Assessing public opinion
Surveys enable the assessment of public opinion on specific political issues, initiatives, or current events, providing valuable insights into the prevailing attitudes and sentiments within the population.
Predicting electoral outcomes
By analyzing survey data, political analysts and pollsters can make informed predictions about electoral outcomes, thereby influencing campaign strategies and informing media narratives.
Shaping policy decisions
Survey results can inform policymakers about public priorities and concerns, guiding the formulation of policies that align with the interests and needs of the populace.
Guiding political communication
Surveys help political actors refine their communication strategies by identifying the most effective messaging and communication channels to reach and engage with the target audience.
Political surveys play a crucial role in informing political campaigns, policy-making, and governance, providing a quantitative and qualitative understanding of public sentiment that serves as a foundation for informed decision-making and strategic planning.
What are the Impacts of Political Surveys?
One of the most significant impacts of the rise of online political surveys is its role in enhancing the accessibility and inclusivity of political participation. Through the seamless integration of survey tools into various digital platforms and social media channels, political stakeholders can engage with a diverse spectrum of the population, transcending geographical constraints and demographic barriers.
This democratization of participation empowers individuals who were previously marginalized or excluded from the traditional political discourse, amplifying their voices and enabling them to actively contribute to the political narrative. Consequently, the online survey phenomenon has fostered a more representative and inclusive democratic process, fostering a sense of ownership and empowerment among citizens who feel their opinions are valued and considered.
Furthermore, the real-time data collection capabilities of online surveys have revolutionized the way political campaigns and policy initiatives are formulated and executed. By swiftly gauging public opinions and preferences on various issues, political actors can make informed decisions and tailor their messaging and policy platforms to resonate with the concerns and priorities of the electorate.
The immediacy of online survey data allows for agile and adaptive campaign strategies, enabling candidates and parties to respond rapidly to emerging trends and public sentiments, thereby enhancing their competitive edge in the fast-paced realm of electoral politics. Consequently, this data-driven approach has led to more targeted and effective political communication, fostering greater resonance and engagement with the electorate.
Conclusion
The rise of online political surveys represents a paradigm shift in the landscape of modern politics, offering unprecedented opportunities for direct citizen engagement, data-driven decision-making, and strategic political maneuvering. While posing inherent challenges and ethical complexities, the transformative potential of online surveys in shaping inclusive and responsive political environments cannot be understated. By embracing the transformative power of digital technologies and prioritizing the ethical use of data, political actors can harness the full potential of online surveys to cultivate a more participatory, transparent, and accountable democratic discourse, thereby heralding a new era of citizen-centric governance and political representation.